World Holdings' CSR is our vision for creating a world for people to live in. It is informed by the four key elements of "people," "environment," "society," and "governance."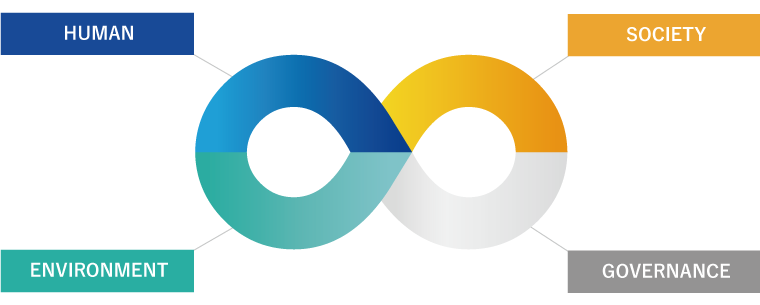 Creating the ways we live, for a better tomorrow.
HUMAN
Creating a wide range of careers
Since our foundation in 1993, we have been active in the HR, training and education businesses. Our industry has diversified, and now encompasses a wide range of companies and many kinds of jobs. We give all sorts of people the ability to develop their careers, across many industries. Going forward, we hope to continue creating the ways people work.
ENVIRONMENT
Environmentally Friendly Business Development
Managing businesses in harmony with the natural world
Nationwide, we operate nine agriculture parks. We now bear the responsibility for stewarding and preserving the health of the natural world for the benefit of tomorrow's children. So that the children of the world can continue to have green outdoor spaces in which to play and grow, we commit ourselves to business development that coexists with the natural world.
Park Management Business Division
Building with Eco-Friendly Materials
We actively use ecologically-friendly materials in our construction and real estate development projects. Going beyond the materials themselves, we plan living spaces and developments so that the inhabitants can peacefully coexist with the natural environment.
Real Estate Business
SOCIETY
Reclaiming Spaces so Everybody can Flourish
Reconstruction and Restoration
In the aftermath of the Great Tohoku Earthquake, we collaborated with the administration to support and gainfully employ over 20,000 disaster victims.
WORLD NEXT CO., LTD.
"Employment Department Store" to help mothers work
We are constantly seeking ways to support and enable working mothers. Through the creation of a privately funded "Employment Department Store," we run a service which matches women with children to employers who need them.
WORLD NEXT CO., LTD.
Disability-Friendly Workplaces
Our special subsidiary, Kyushu Geographic Information Ltd., is a workplace specially designed to enable people with disabilities and healthy volunteers to work side by side. Through the creation of a comfortable, supportive space designed to take into account a wide variety of needs, we have enabled many people with disabilities to actively participate in work in meaningful ways.
GEOGRAPHIC INFORMATION OF KYUSHU, INC.
GOVERNANCE
Agile Organization
We use a decentralized holding company management structure in order to respond flexibly and efficiently to a rapidly changing business environment. This enables aggressive business growth and transformation through the delegation and clarification of authority and responsibility throughout our organization. Our goal is to improve efficiency and speed. Incorporating top-tier compliance with laws and regulations as part of our overall business philosophy, we have created an in-house auditing and compliance supervisory function, along with relevant committees and reporting systems. Through strengthened supervisory functions and objective, transparent management, we are adding value through best-practice corporate governance.
Corporate Site Governance Report
Corporate Governance Structure